Energy provider upgrades to Power Platform
Power Apps has provided a simpler experience for teams to manage projects.
Overview
This energy provider currently delivers power to 80% of its population throughout the country in Asia. Relied upon the service supplying energy, gas, and distribution the provider aims to maintain being a leader in next-generation technologies for the sustainable future.
The technology department currently supports more than 500 projects and over 100 project managers and teams working towards delivery against the annual plan.
An existing Project Online solution currently supports the organisation with well-defined templates and processes.
The Challenge
With the reduced roadmap and (deprecation) of Project Online (read here) this organisation decided on an early move towards the NEW vision for Microsoft Project.
This decision was based on the organisation requiring the need to onboard several hundred more users and manage the ongoing adoption process to support a broader range of projects.
A change management initiative was discussed whether to reside on the existing platform and continue to invest or move to the new project apps (running project for the web on power apps.)
The below challenges were reviewed and highlighted:
Project Online did not offer the ability to manage programs

Project Online no longer has a future roadmap which means Microsoft will not invest in new features or functionality

A cost to support the change adoption for adding additional users to the existing platform was negligible and there would be no return on investment

Project financial planning and resource management required the use of MS Project Desktop - which was incredibly time-consuming for some project managers - creating reduced data accuracy

Silo project sites for every project - which meant that some project managers had up to 6 to 7 sites to maintain the same project controls
The Goal
To migrate the existing configuration and system design from Project Online to Power Apps

To build a future for solid releases and enhancements over time as maturity increases

To offer built-in training, guides, and checklists

Remove the need to run SQL Azure databases for consolidated reporting often required for Project Online

To leverage a single URL and platform that is intuitive and simplistic to use to manage projects, programs, and portfolios

To deliver a migration from the old platform to Power Apps with minimal disruption
Approach
The Digital Project developed a prototype solution environment for this organisation seeking to migrate to Power Apps. This approach was taken based on helping the existing Project Online administrators understand the features and functionality of the Power Platform.
With endorsement from the existing project sponsor, the Digital Project then deployed the solution using their rapid agile delivery model methodology.
The change management and transition plan were managed by the internal Project Online team who completed the following activities - ready for transition:
Change Management Plan (outlining what's new, what's changed and how end-users will be affected)

Communication Plan (outline key dates, forums, brown bag sessions, and portfolio team lead communications)

Transition Plan (outlining dates, users, data migration timeframes)
It was important that end-users did not feel overwhelmed, and therefore the transition was promoted as an enhancement to the existing solution.
Some Project Managers decided to keep their schedules running in Project Professional Desktop - with others moving to Project for the Web.
Existing Project Sites were also kept and used as hyperlinks in the new Project App location within Power Apps.
Methodology
The project team decided on 2 release cycles with 2 sprints per release to deliver the solution for the project. This involved building the shell, and then migrating data through transition planning whilst completing handover.
Figure 1: Release Planning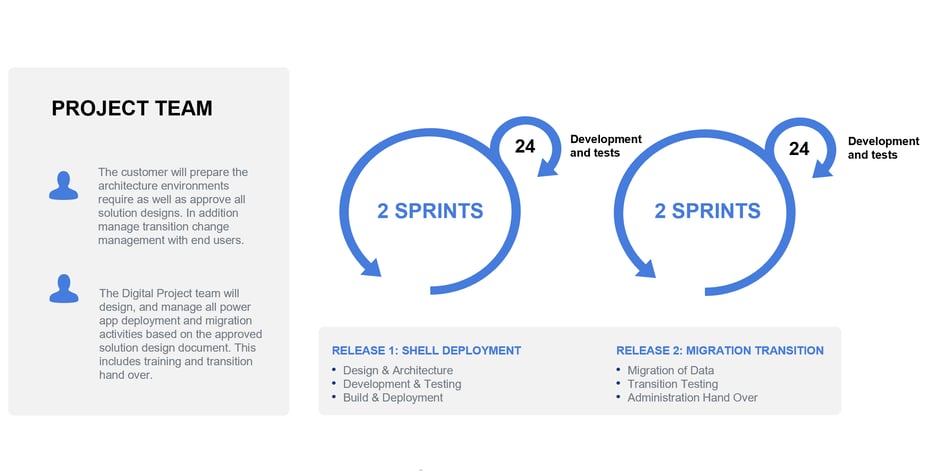 Solution
This energy provider deployed the Digital Projects Project Hub Power App as a pre-configured design based on the existing Project Online solution. This solution was selected for the following reasons:
Easy transition from Project Online to Power Apps for data migration

Integration out of the box with Excel - which is a similar experience to how end-users manage their data today (minimising change).

Supported roadmap for the project with a solution based on a solid vision
Integration with Dynamics 365 for centralised resource pool management
The Digital Project implemented Project Hub a Microsoft Project for the Web Power App. This app is based on a model-driven Dynamics 365 design and offers a rich simplified user experience to managing projects all within a single URL. With a built-in knowledge base, this App allows end-users to get started immediately to set up and manage the delivery of projects.
Figure 2. Project Hub Solution Images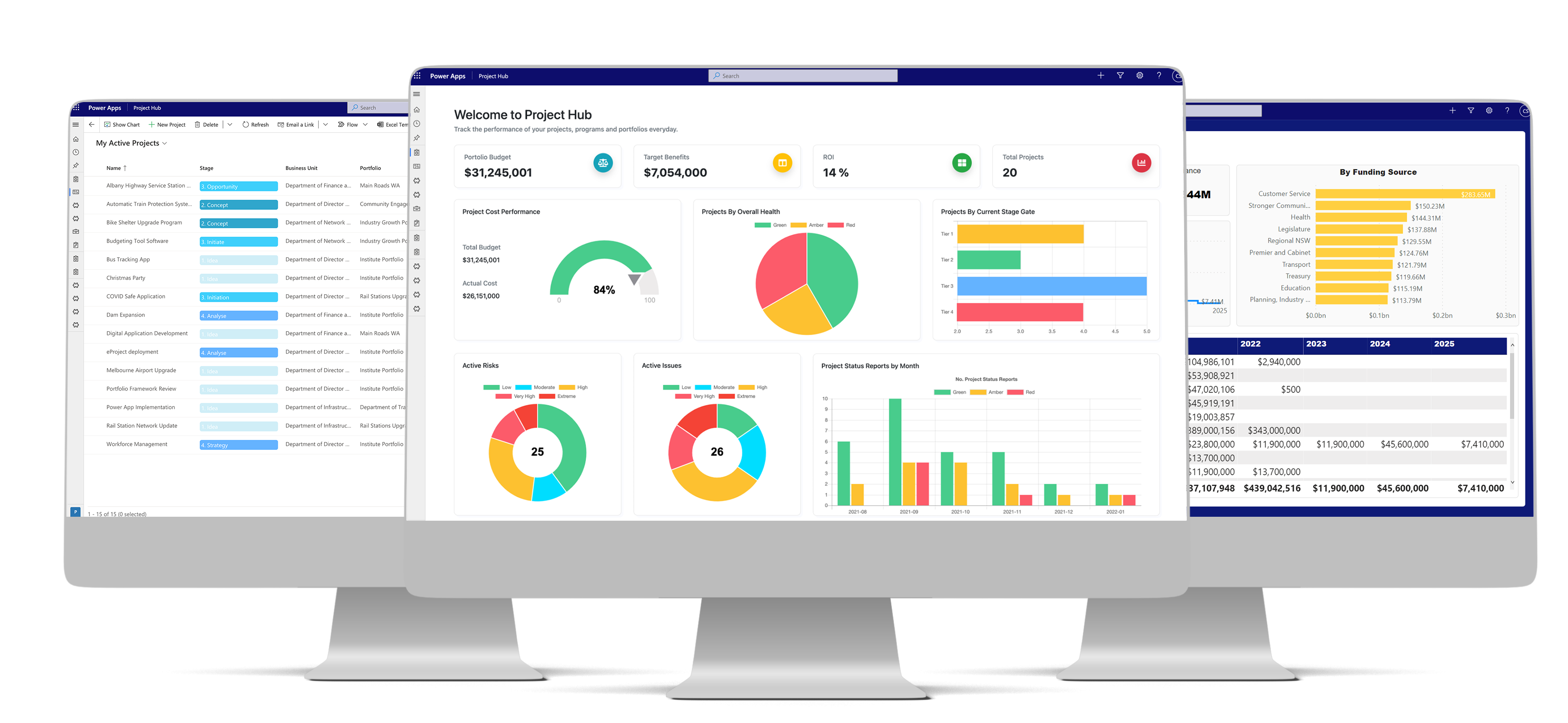 Lessons Learned
Consider what you want to move to Power Apps (ie not all Project Online data needed to move - just projects that were relevant for enterprise-level reporting)

Don't make too much of a fuss to the end-users as enough time and effort was spent in managing the change and adoption to Project Online :) What we are highlighting is that trying to make out like this new solution is really just an enhancement!

Deploy your base Power App design on the same configuration as Project Online, keeping consistency. Don't try to make improvements as it may only create confusion

Keep a release note schedule for any changes you make to the system and allow end-users to view the notes