Government department deploys Project Hub
A single Microsoft Power App to manage projects and programs for every Portfolio team
Overview
This government department manages a capital works portfolio greater than $250m per year. More than 5000 staff, contractors and vendors are involved in the delivery of projects supporting the economy of the department. Projects may comprise of minor maintenance, and capital works through to extensive construction and development projects. Aligning to the government priorities supporting the economy in Australia this department plays a key role in supporting the greater community and municipalities.
The Challenge
Multiple systems to manage and record project information

Multiple project teams reporting through to different departments

Inconsistent processes and ways of working across each team

Significant administrative staff overhead for reporting and analysis

Low maturity and understanding of project management principles

Lack of alignment to strategic objectives which meant there was no visibility into how tax payer money was being consumed/spent
The Goal
To embed a consistent process and approach for managing projects across the entire council

To help project owners and sponsors understand their roles and responsibilities

To seek endorsement from directors and senior management teams for the project implementation

To provide real-time and instant visibility of the status and health of all projects

To improve planning and prioritisation of projects that are aligning to each corporate strategic objective

To reduce the overhead of support and analyst staff in spending time manipulating project data

To increase the maturity knowledge and importance of project management across the entire organisation
Approach
This project involved a very strategic combination of people + process + technology. With more than 5000 staff members across the department, and with a low project management maturity, a strategic project management plan and business case was prepared and presented to the Executive Leadership Team for endorsement.
The project management plan and business case together outlined the requirements with associated benefits and return on investment. It was quite clear that a centralised project portfolio management solution was needed to meet the goals and challenges currently faced.
Upon approval the project schedule was prepared, and the project team began the journey to implement a new platform based on the Digital Projects Project Hub App (A Microsoft Power Platform Power App solution). This platform would change the way the department would now manage projects forever.
Methodology
Like all projects, the team was established, and together with the Digital Project, the journey began. Working together as one team and based on the Digital Project's rapid agile delivery approach meant that showcases were regular and user adoption and change management activities could be addressed early.
Understanding that the technology was new the team designed and developed the solution over several releases, iterations and sprints using the Digital Projects Rapid Agile Delivery approach. Speed to delivery was essential for this government department.
Figure 1: Rapid Agile Delivery (TDP)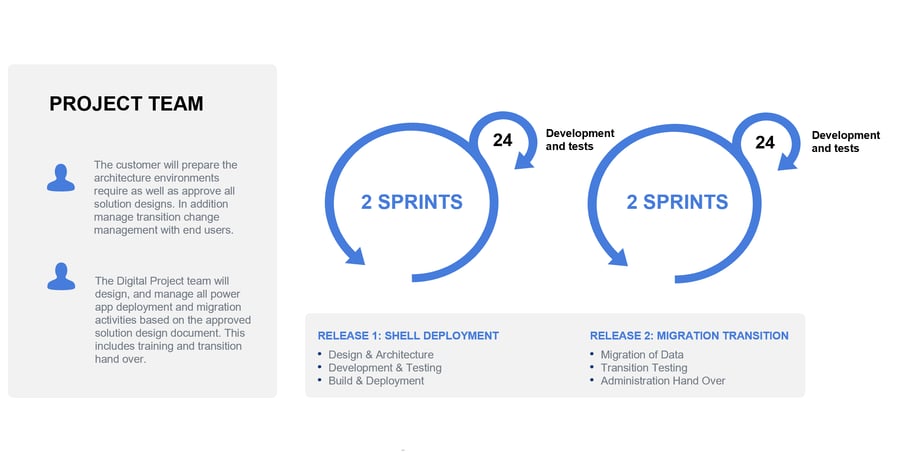 Solution
This government department did their research reviewing many online solutions and platforms. The Microsoft platform and the Digital Project's Project Hub App was selected for the following reasons:
Pre-configured Project Power App 100% installed within the departments' tenant (the base design was instant)

Management of Ideas > Projects > Programs > Portfolio's (most platforms just manage projects)

Integration with Power BI, Automate, and Dynamics 364, Outlook and O365 meant that internal teams could take greater control over administration and security

Hosted and managed within the departments tenant meant that the department owns and can control the application

Connection to DevOps, Project Online + Jira meant that they could use multiple scheduling engines based on PM's preference

Reduced need for report creation as the app displays drill thru content

Could meet all requirements supporting mobility for field services teams (with a future roadmap with resource management with Project)
The Digital Project implemented Project Hub a Microsoft Project for the Web Power App. This app is based on a model-driven Dynamics 365 design and offers a rich simplified user experience to managing projects all within a single URL. With a built-in knowledge base, this App allows end-users to get started immediately to set up and manage the delivery of projects.
Figure 2. Project Power App Architecture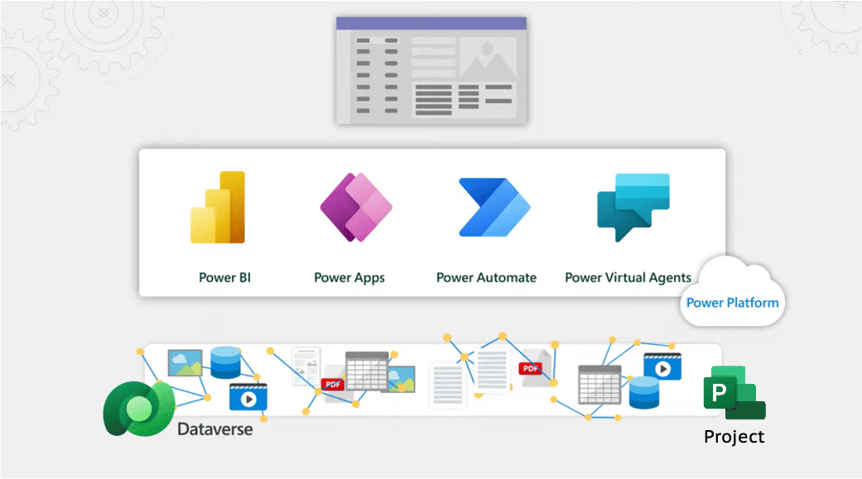 Figure 3, Sample screenshots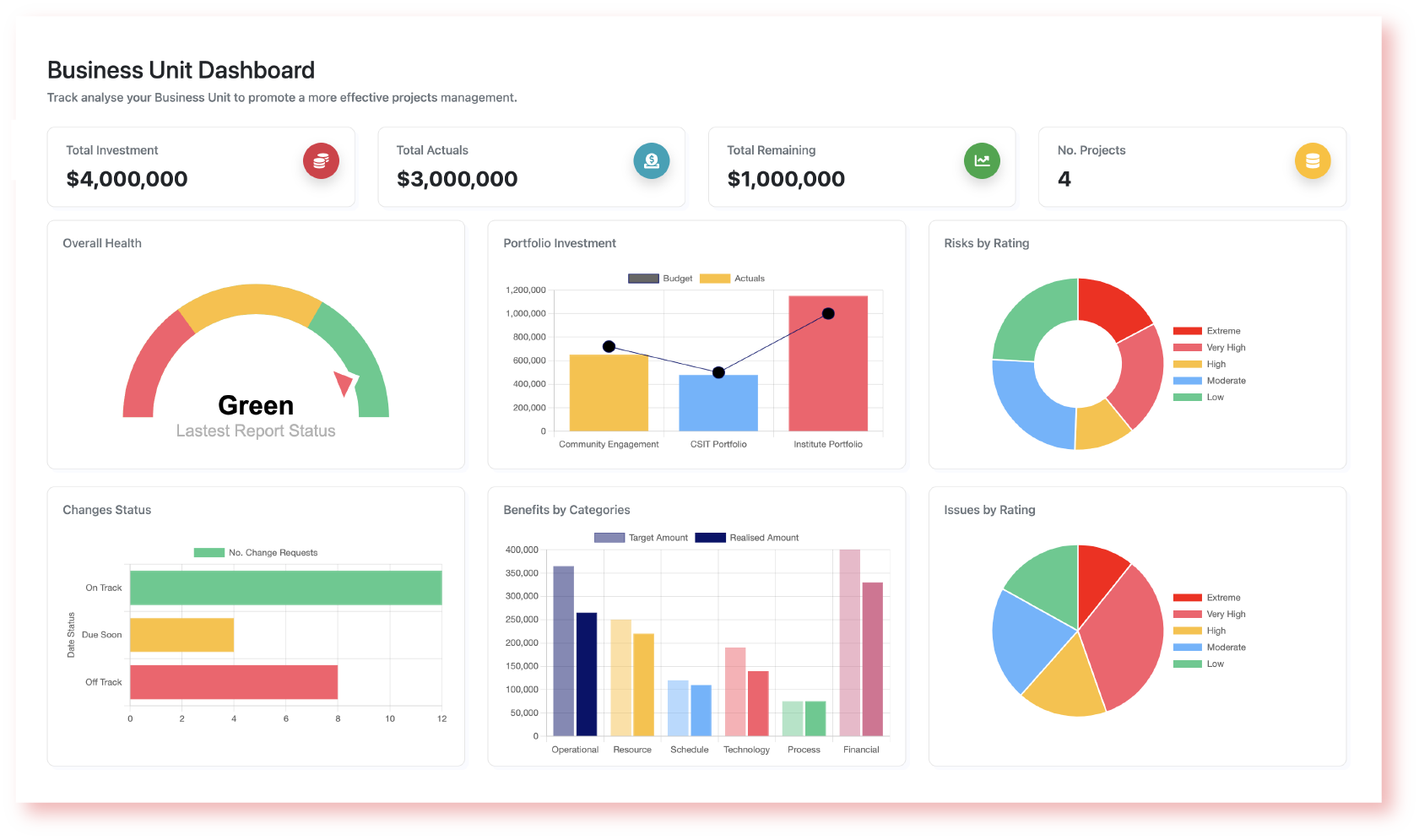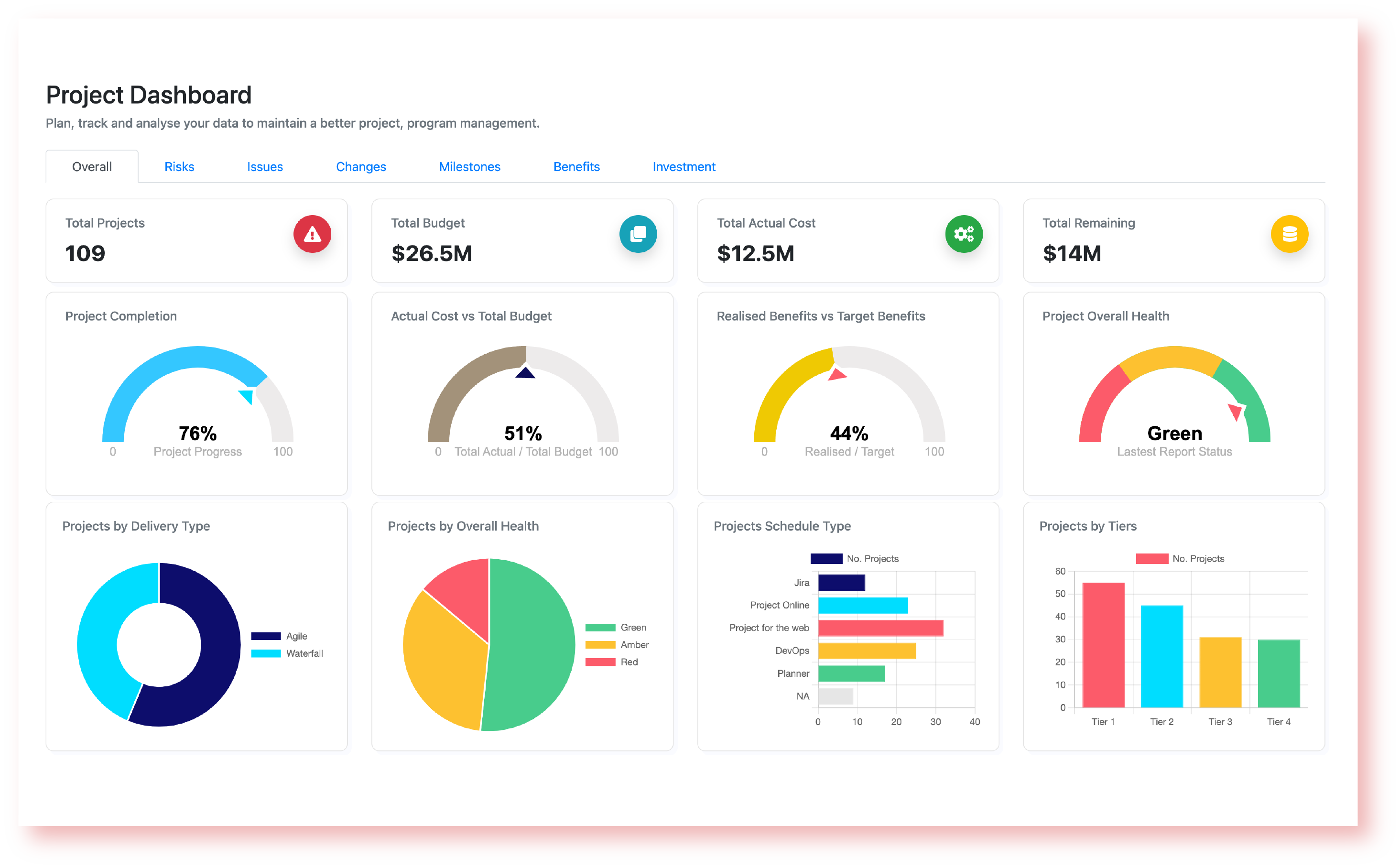 Conclusion
Today the government department now have all projects, programs and portfolio's embedded within the app - creating instant visibility for leadership and executive teams. Project and Program Managers can now leverage the app to record the status and health of their projects and programs. It's still a long journey ahead but the return on investment is already there.
Lessons Learned
Build the process and framework and embed and roll-out before commencing solution design. For this organisation, it also included policies and procedures (as some parts of the app required procedural reviews)

Start the change management journey from day 1 - the moment senior management endorse the project. Ensure that all stakeholders who will utilise the app have a clear understanding of their roles and responsibilities.

Build a backlog of requirements for future releases and iteration (ie - not everything should be included in the first release).

Complete questionnaires on the maturity of project management and best practices - this would have assisted with the change management and adoption journey.