Manufacturer deploys Innovation Hub
Crowd sourcing innovation across suppliers and vendors for improved innovation.
Overview
This manufacturing company is a global giant supplying goods and services to buyers to people all around the world. With a global business development team, this company is dedicated and focused on surviving Covid 2020.
There is no doubt that we are in a world crisis, with a pandemic affecting suppliers, and buyers globally. This company decided to step it up to get the most innovation out of their suppliers and staff.
This means feedback on great ideas and changes that will continue to support a growing market through and past Covid 2020.
The Challenge
Business development teams, project teams, were strongly focussed on their own markets, with less time spent on understanding customer and supplier needs.

Existing processes and standardised business practices were followed but with a lack of delivering a difference.

With the entry of Covid 2020 - there was a need to step up with an operating model that could meet the demand of buyers and suppliers - working from home and working online, is now the norm for most of us.

Share price drop was evident as buyers feel nervous about spending money.
The Goal
Create a disruption in the market - and get buyers to think differently to keep consuming products

Improve business processes and speed up to go to market - increasing revenue and profit/sales

Ensure teams stay enthusiastic and keep innovation momentum going

Accurate spend on projects - through the innovation funnel would mean that projects were accurately funded
Methodology
The project team decided on 3 sprints to deploy the Innovation Hub App using the Digital Project's Rapid Agile Solution Framework.
Sprint 1: App based deployment
Sprint 2: Feedback and daily stand up's - ongoing development
Sprint 3: Training and learning, change management - up-skilling teams, with built-in video hosting, faq's and hand over to admin teams.
Solution
Innovation Hub allows end-users to create challenges, as well as idea and concept- crowdsourcing against the strategy and direction of the company. The app enables teams to effectively measure innovation against projects, as well as track feedback from staff and suppliers.
Keeping your internal teams motivated during Covid - with employee engagement -sometimes the best ideas come from those who know your business processes the best.
Connected to Power Apps and Power BI for powerful reporting and tracking Innovation Hub - can manage the entire lifecycle from start to end.
Figure 1. Innovation Hub Screenshot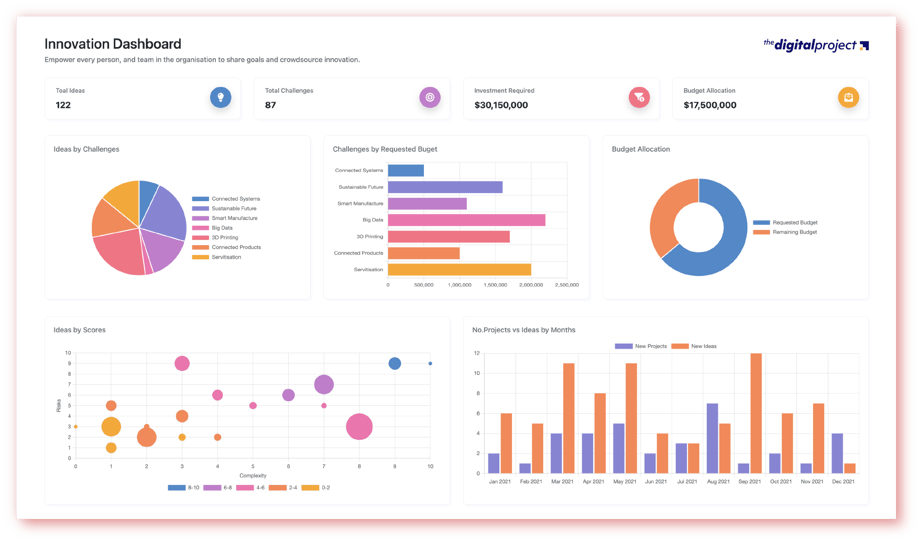 Lessons Learned
Build your process for innovation management ahead of time - so that you can incorporate your business rules from day 1

Connecting the app to the Project Hub app now means that teams can track performance created ideas through to project closure

Marketing the innovation app across the entire company meant that additional communications were required - this company wasn't sure on the uptake :) seems it was a hit!