Transportation PMO deploys Project Hub
Managing projects from estimation through the execution and closure - tracking performance, compliance and investment spend across every PMO
Overview
This Australian transportation railway provider is committed to delivering a safe and reliable service to the city, supporting a population of more than 5 million people.
Projects and programs of work range between $100k to $500m, depending on the scale and the department managing the work.
With most projects outsourced to third parties, this railway provider delivers projects that are committed to supporting the growing economy of the city.
With no centralised project management platform to manage the budget and investment planning for projects meant that decision making was the best effort.
The Challenge
Inconsistent spreadsheets to manage funding allocation per department and teams

Multiple PMO's with differential processes for managing capital projects

Lack of process to manage project inter-dependencies

No accountability for mismanagement of projects

Lack of procedures and guidelines to support policies

Project managers had no formal PM training

Lack of adoption towards a framework and guidelines

The significant overhead of project controllers and analysts

Enterprise reporting for senior management was manually created

Estimation for projects from third party vendors was inconsistent

Inventory and asset and maintenance tracking was relied upon with third parties
The Goal
To build a consistent framework with policies and procedures for managing safety and risk

To embed and leverage a single platform to assist with the allocation and funding for capital projects

Develop a process for and framework for managing enhancements and projects

Deliver projects with less administrative overheads, embed mobility where possible

Create accountability for projects across multiple departments

Deliver projects faster and smarter with a built-in knowledge base, process as well as consistent templates

To get better visibility with resource planning and allocations

To plan and estimate projects with better accuracy
Approach
With safety and risk as a primary concern, this railway provider started its journey by developing a new framework. This included writing procedures, frameworks and setting new expectations for managing better projects.
With endorsement from the board, this project gained tremendous momentum which allowed the project team to move at a rapid and fast pace to meet their deadlines and timeframe's promised.
The change management and adoption process involved a team of experts focused on undertaking maturity assessments, surveys, and interviews. Results were shared with senior management team's and a well-structured planning and skill's capability uplift was prepared for action. This involved helping those tagged as project managers to better understand their roles and accountability.
Upon the new framework being endorsed the project team engaged with the Digital Project to deploy their Project Hub App. A Microsoft Dynamics 365 model-driven Power App. Designed to manage the entire lifecycle of projects from concept through to execution and closure.
Methodology
The project team decided on an iterative approach for the delivery of the Operational App. This included running a hard gated approach for Concept and Deploy stages, and iterations during Develop stage. These iterations allowed the organisation to gain an understanding of the platform, and make informed decisions as they arise each day.
Solution
This railway provider selected the Digital Projects Project Hub App as their solution. The solution was selected for the following reasons:
Integration out of the box with Excel - which is a similar experience to how end users manage their data today (minimising change)

Pre-configured App 100% installed within the organisations tenant with Dev and Prod

A process to import solution files meant that internal IT teams can control changes to the system.

Management of Enhancements > Projects > Programs > Portfolio's

Integration with other systems such as Oracle Primavera, Jira as well as the out of the connections with MS Project and Project for Web

Business process flexibility - allowing for multiple types of project processes/stage gates to be configured.

Workforce Planning, estimation, and timesheets for third parties - was available 100% out of the box

Inventory, maintenance, and integration with Dynamics F and O - was out of the box
Figure 1.Project Hub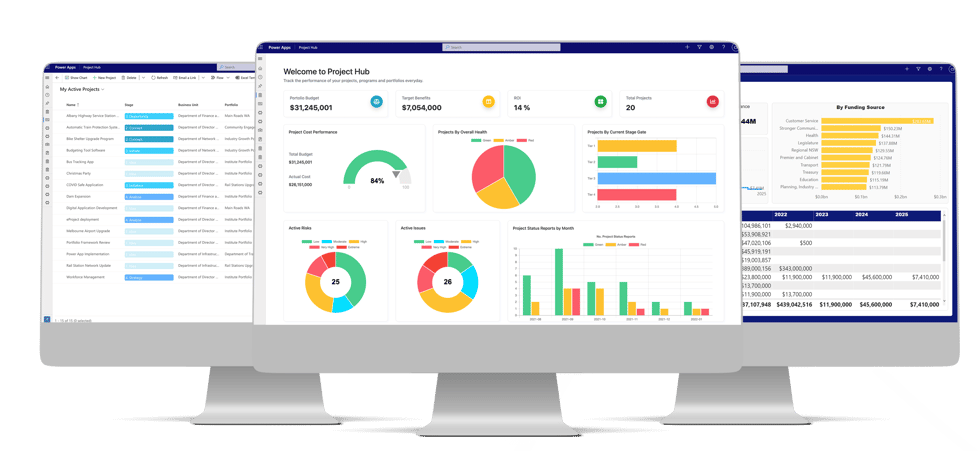 Lessons Learned
Draw a line in the sand on decision point for projects that are required to be loaded to the solution (versus projects finishing in several months)

Seek endorsement from leadership teams on project change and benefits

Gather the list of projects, programs, and user base audience and plan for their adoption strategy in advance

Send out regular weekly communications about the project

Discuss with HR the changes to job descriptions for accountability

Build the process and framework first looking at technology

Ensure the IT architecture meets the long term strategy for the organisation

Create regular weekly lunch and learns (don't assume everyone will read the faq's and watch the training videos)